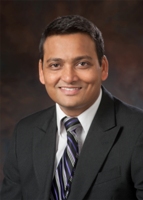 About Dr. Vimal Jayswal, MD
Dr. Vimal Jayswal, MD, FAAP, is a Board Certified Pediatrician and Board Certified Pediatric Cardiologist who resides at Boardman, Ohio, with his wife, son, and daughter.
Dr. Jayswal has been a physician for more than ten years, having practiced in India, Kentucky, New Jersey and Ohio. He enjoys helping children to be as healthy as possible, so they can take in all the joys of being young.
He completed his internship and residency at St. Joseph's Regional Medical Center at New Jersey. He completed his pediatric cardiology fellowship training at Rainbow Babies & Children's Hospital (ranked in the top 10 of U.S. children's hospitals) in Cleveland, Ohio.
Dr. Jayswal was led to become a physician because he wanted to provide compassionate care to alleviate pain and human suffering.
Areas of Treatment
Dr. Jayswal specializes in the care of children of all ages from newborns to teenagers.
Awards & Honors
He recently earned the distinction of becoming a "Fellow" in the American Academy of Pediatrics. Dr. Jayswal also received the "Best Resident Teaching Award" at NSCB Medical College in India in 2007.
Interests & Hobbies
In his free time, Dr. Jayswal enjoys reading books, watching movies, and spending time with his family.
People Would Be Surprised to Know...
Dr. Jayswal is a big fan of the game of Cricket.
Favorite Quotation/Bible Verse
"Trust in God, and do the right thing."
« Back to Doctors