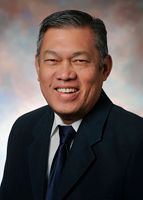 About Dr. Jose Martinez, MD
Dr. Martinez is a general practice physician with more than 36 years experience. He became a physician at the urging of his parents and earned his Medical Degree at the University of St. Thomas in the Philippines.
He resides at New Philadelphia with his wife. He has two adult sons and three grandchildren.
Awards & Honors
Dr. Martinez has been a long-time leader and mentor among the physicians at Trinity Hospital Twin City. He has earned Twin City Hospital Physician of the Year Awards and is a member in good standing of many Medical Professional Societies.
Interests & Hobbies
Dr. Martinez enjoys reading, playing poker and spending time with his grandchildren.
Most Rewarding Aspect of Being a Physician
Dr. Martinez enjoys caring for people.
What I Like About Trinity Hospital Twin City
Dr. Martinez was drawn to Tuscarawas County because of the potential for professional growth and the ability to really make a positive difference in the lives of others. He noted that Trinity Hospital Twin City is able to provide great medical opportunities.
Favorite Quotation/Bible Verse
God grant me the serenity to accept the things I cannot change, courage to change the things I can and the wisdom to know the difference.
« Back to Doctors