Dr. Mohammad Jan, MD, FACC

Cardiology
For appointments call: 330-588-4676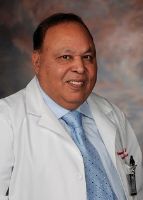 About Dr. Mohammad Jan, MD, FACC
Known for his caring and his dedication to treating his patients like family members, Dr. Jan is the cardiology professional to help people manage their heart health concerns and challenges. He takes time to listen to his patients and help them understand their condition and the steps that can be taken to improve their health.
Dr. Jan is a Board Certified Cardiologist with more than 35 years experience in heart care. His Board Certifications include cardiovascular diseases, nuclear cardiology and internal medicine. He is also an Associate Professor of Medicine at Wright State University.
Dr. Jan has earned the distinction of Fellow in the American College of Cardiology (FACC).
Dr. Jan resides at Dover and enjoys spending time on weekends with his wife and family. He became a physician because he enjoys the satisfaction of witnessing the healing process in his patients.
Areas of Treatment
Dr. Jan can care for most heart ailments including care before and after major heart surgeries and procedures.
Awards & Honors
Dr. Jan has earned many academic honors from an early age. He was high school valedictorian, graduated at the top of his class at college and was a gold medalist (honors distinction) at Khyber Medical College.
Interests & Hobbies
Dr. Jan enjoys golf, travel, reading and other outdoor recreational pursuits.
Most Rewarding Aspect of Being a Physician
Dr. Jan likes to bring satisfaction and personal service to his patients and their families.
What I Like About Trinity Hospital Twin City
"I have always loved to live and practice in small communities. At Trinity Hospital Twin City, I enjoy the challenge of developing and growing this premier cardiology department."
People Would Be Surprised to Know...
Dr. Jan is an avid private airplane pilot.
Favorite Quotation/Bible Verse
"The source of all healing ultimately is God." The Koran
« Back to Doctors