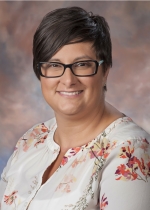 About Holly Gibbs, APRN-CNP
For Holly Gibbs, being able to help families improve their health is important. That's why she loves working with children (age 12 and older) and adults to make sure all their healthcare needs are met. She is committed to providing quality care to all and to taking the time to listen to her patients so she can help them reach optimum health.
Holly has about 17 years experience in nursing care, including four years as a board certified nurse practitioner. She earned her bachelor of science degree in nursing from Indiana Wesleyan University and her master of science in nursing from Kent State University. Holly has extensive experience in the treatment of older adults (geriatric patients) and patients with neurological disorders.
Holly hails from the Twin City region and was a 1995 graduate of Claymont High School. Holly currently resides at Dover with her husband and three children.
Areas of Treatment
Holly specializes in adult and family medicine and welcomes new patients from age 12 to 100 plus.
Interests & Hobbies
Holly enjoys swimming, hiking, walking, riding on ATVs, and traveling in her spare time.
Most Rewarding Aspect of Being a Physician
Holly finds it very rewarding to see her patients improve their health and wellness with her help and expertise.
What I Like About Trinity Hospital Twin City
"I love the small town atmosphere surrounding the Twin City area. The people here are genuine and down-to-earth."
Favorite Quotation/Bible Verse
"Beloved, I pray that you may prosper in all things and be in health, just as your soul prospers." 3 John 1:2
And
"Therefore I say to you, whatever things you ask when you pray, believe that you receive them, and you will have them." Mark 11:24
« Back to Doctors