Love Your Heart: Steps to Keep Your Heart Healthy

February is American Hearth Month. In recognition of the month, we host an annual event each February. Join us at our free, annual Love Your Heart Educational Event featuring healthy snacks, presentation by cardiology professionals, educational information, door prizes and more! Visit our calendar of events to find the date of this year's event.
Love Your Heart… Providing the Education to Help You Start

Drink 8 glasses of water a day
Eat a variety of whole grains (like whole-wheat bread, whole-grain pasta & brown rice).
Choose fish, poultry, beans & nuts; limit red meat and cheese; avoid bacon, cold cuts, and other processed meats.
Eat plenty of fruits of all colors.
The greater amount of (non-breaded, unfried) veggies and the greater the variety the better.
Limit foods high in salt, saturated and trans fats, cholesterol and sugar.

Think positively- studies indicate that optimism may affect your quality of life. Optimism enables you to cope better with stressful situations, likely reducing the effects of stress on your body.
Change your emotional response-managing stress doesn't mean eliminating stressors from your life. It means developing positive strategies for dealing with stress to avoid negative consequences.
Protect your time- Some people find it hard to say no to any request made on their time. But saying yes to everything comes at a price-more stress and less peace of mind. Learn how to take time for yourself without feeling guilty.
Try prayer and/or meditation- different types of prayer and meditation techniques can calm your mind and reduce your stress.
Be sure to get enough sleep, relaxation, and exercise as these all reduce stress.
Find positive ways to cope with day-to-day tension such as walking around the walk or talking with someone you trust.

Find an activity you enjoy (walking, running, dancing, swimming, cycling, etc.). You have to like it to want to do it.
Figure out what is the best time of day and plan and schedule your activity into your day just as you would any other important appointment.
Aim to get at in at least 30 minutes of moderate or vigorous intensity exercise each day (more if you need to lose weight). You can break up your exercise sessions into 3 ten-minute sessions or 2 fifteen-minute sessions if your schedule doesn't allow for 30 minutes.
Keep at it, even if you slip up along the way. It can take months of repetition to form a habit, so every day is a step in the right direction.
Other Smart Heart Health Tips

Work with your healthcare provider to monitor and control your cholesterol, blood pressure and blood sugar levels.
If you smoke, begin taking steps to quit.
Avoid secondhand smoke…it's bad for your heart.
Talk to your healthcare provider about having a heart risk assessment and follow his/her recommendations for a healthy heart.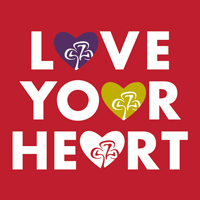 To pre-register for testing at Trinity Hospital Twin City, please call (740) 922-7405. To schedule an appointment with our cardiologist, please call (740) 922-7480.
Love Your Heart…Our Services Can Help You Start
Our Trinity Hospital Twin City cardiology professionals can help you get the heart tests and care you need. Visit our heart services page to learn more or call us at (740) 922-2800.