THTC Volunteers Donate $62,255 to Hospital
June 26, 2018
News Release—For Immediate Release June 26, 2018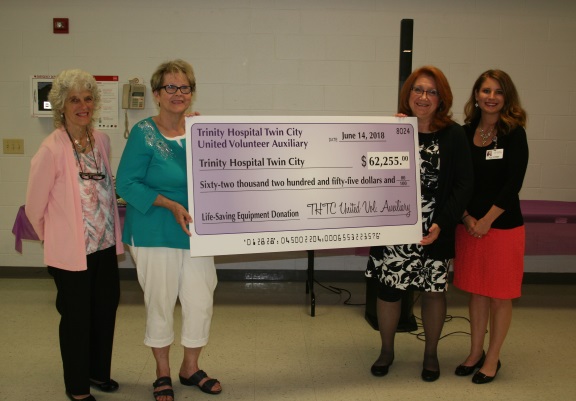 Pictured are (l to r) Trinity Hospital Twin City United Volunteer Auxiliary President Emillie Blackwood and Treasurer Carolyn McCoy presenting a donation check to THTC Site Administrator and Vice President of Operations Teresa Gagliardi and THTC Volunteer Coordinator Erica Gallagher.

"Trinity Hospital Twin City Volunteers Donate $62,255 to Hospital"
DENNISON—During a special volunteer luncheon in June, the Trinity Hospital Twin City United Volunteer Auxiliary presented the hospital with a $62,255 donation to purchase a new serofuge and stat centrifuge for the hospital's laboratory department and five new defibrillators.
Funds were raised by the hospital volunteers through countless fundraisers and sales of merchandise at the coffee bar and gift shop. All of the new equipment can be life-saving in emergency situations. The serofuge is used by the lab to group and cross-match blood types, and the stat centrifuge can perform blood tests rapidly. For example, the centrifuge can provide rapid troponin level results, which are used to diagnose heart conditions such as heart attacks. The defibrillators can reset the heart rhythm in a patient whose heart has stopped beating or whose heart rate is irregular.
In her remarks to volunteers, Erica Gallagher, THTC Volunteer Coordinator, explained, "I have personally seen these machines save lives, and without them, our hospital would not be able to provide such a high level of care. On behalf of the hospital, thank you all so much for your continued dedication and hard work which allows us to provide exceptional care to our community."
Community members of all ages are welcome to join the Trinity Hospital Twin City United Volunteer Auxiliary. Opportunities are available to volunteer for as little as one shift a month to several shifts a month. Officers of the United Volunteer Auxiliary include President Emillie Blackwood of Gnadenhutten, Vice President Jan Thomas of Gnadenhutten, 2nd Vice President Barb Besozzi of Scio, Treasurer Carolyn McCoy of Tuscarawas, and Secretaries Delecta Ditcher of Uhrichsville and Jane Modon of Dennison.
For more information about volunteerism at Trinity Hospital Twin City, call Erica Gallagher, Volunteer Coordinator, at (740) 922-7450, ext. 2124 or e-mail egallagher@trinitytwincity.org.
« Back to Learning Center