Visitor Amenities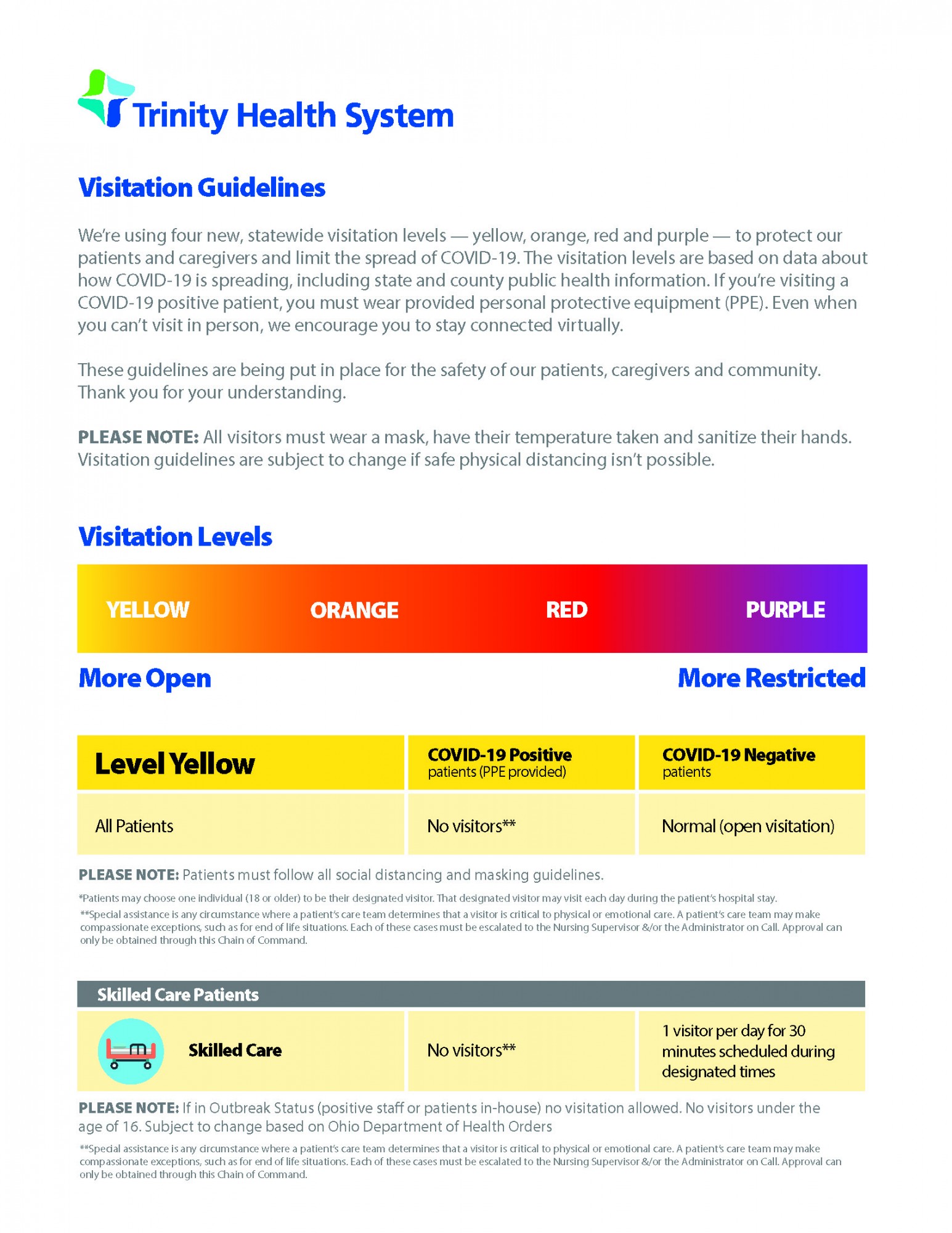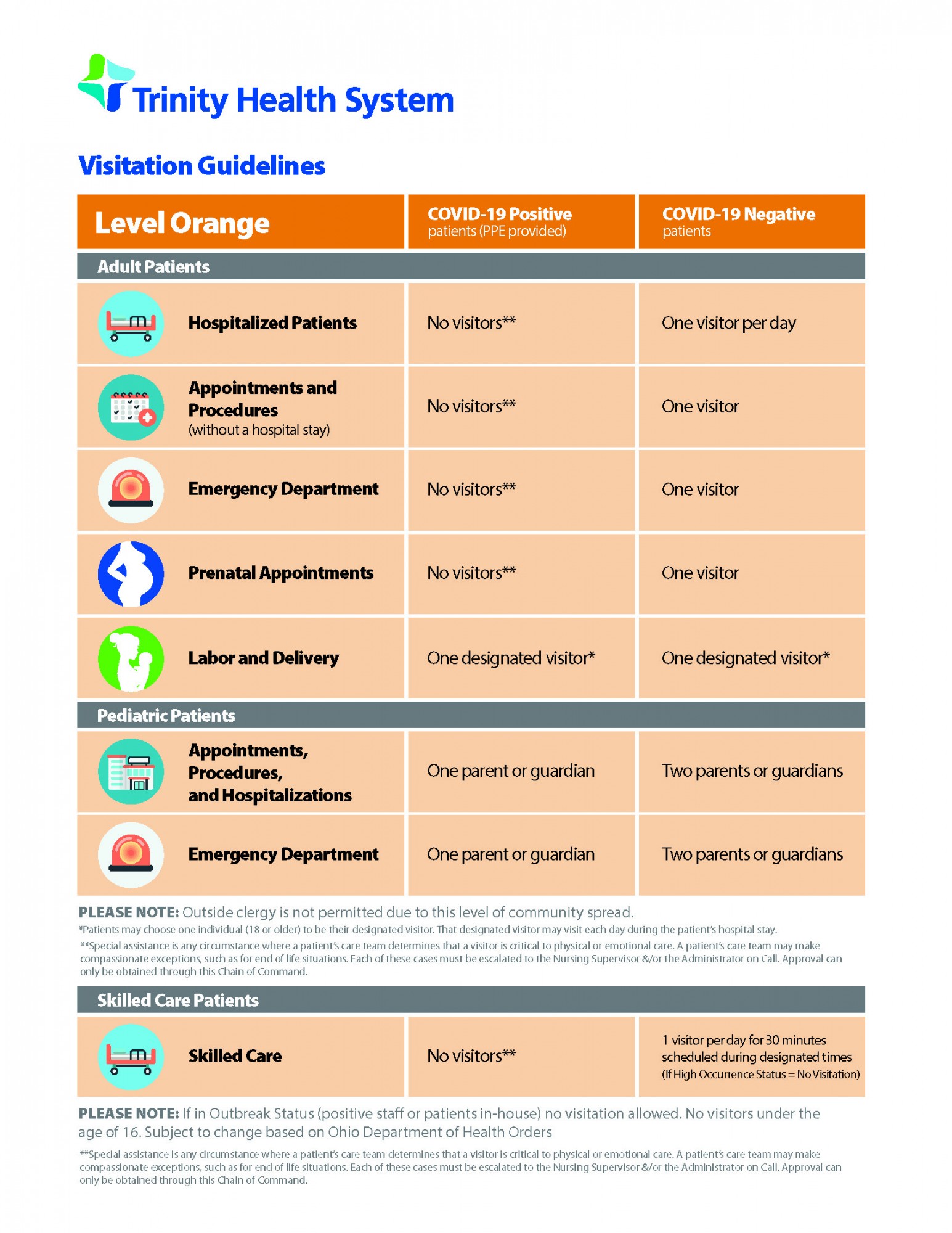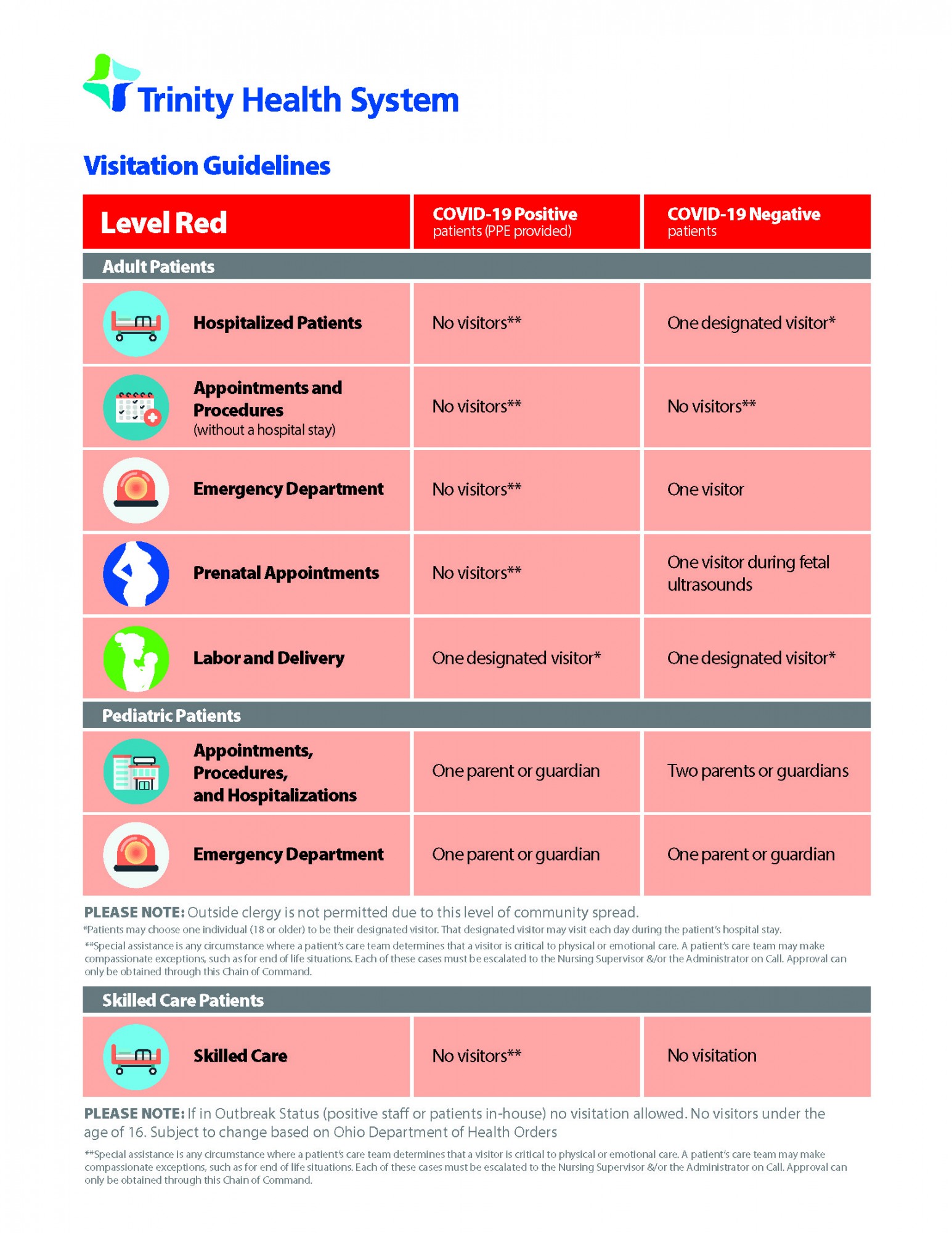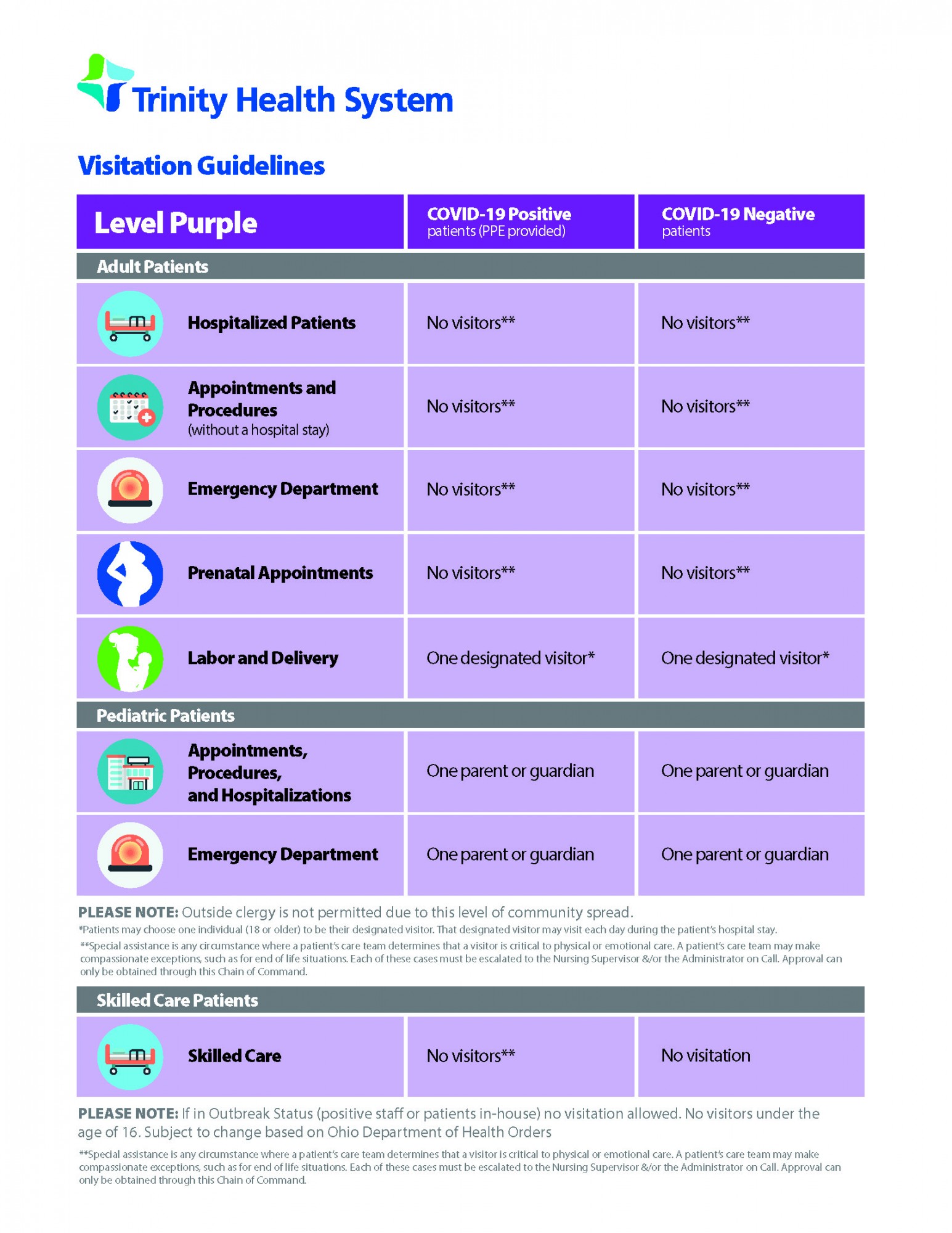 Emergency Room Hours: 24 Hours/365 Days | Visiting Hours: Noon - 8:00pm
Hospital Visitation After Hours
Per approval from physician and nursing staff, one family member may be permitted to stay overnight with patient.
To Contact a Patient
Call: (740) 922-2800
or
Mail: 819 N. First Street
Dennison, OH 44621
Parking & Assistance
Free parking is easily accessible next to the hospital's main entrance. Hospital staff will gladly assist disabled visitors and patients by offering the use of hospital wheelchairs. To request assistance, simply alert the staff at the main entrance registration desks.
Swing Bed Program Patients
Upon physician approval, Swing Bed Program patients are welcome to have scheduled visits with their family pets.
Smoking/Tobacco Policy
Trinity is a smoke free campus. The use of tobacco products is prohibited on any property Trinity owns, leases or controls - including sidewalks & parking areas.
Waiting & Family Spaces
For the comfort of our visitors, many patient and family waiting areas are available and have wireless access. Waiting areas are designed with patient and family privacy in mind and include a separate outpatient waiting area, surgical waiting areas and small family waiting areas and lounges.
Dining and Shopping at Trinity
The Coffee Bar & Gift Shop
This favorite local establishment serves delicious coffee, baked goods, snack foods and showcases wonderful ideas for gifts. Located near the hospital lobby and staffed by our dedicatedUnited Volunteer Auxiliary.

Monday - Friday: 8:00am to 4:00pm
Saturday: 8:00am to 12:00pm
Cafeteria Service
Open every day during standard breakfast, lunch and dinner times. Visitors are welcome to order their food selections as a carry-out option in order to eat with their loved ones.
Vending Machines
Beverages and snacks are available 24 hours a day and located near the hospital lobby.

The Saint Clare Chapel
Visitors and patients of ALL faiths are welcome to utilize the space for prayer and/or quiet reflection. The Catholic Chapel showcases all the proper liturgical furnishings, including the presence of the Eucharist.

The chapel also features a signature prayer bowl where visitors can write their prayer concerns on special paper, put the paper in the bowl and watch the paper fade away as a symbol of prayers being lifted to God.
Conveniently located near the inpatient hospital rooms on the first floor.
Pastoral care is offered to all hospital inpatients. Patients may choose to welcome a visit from his/her own pastor.
Sharing Concerns
Because providing quality care and excellent service is the ultimate goal, our Patient Experience Department is here to address your concerns and complaints.
We encourage you to speak up and ask questions related to your care, treatment, and overall hospital experience.
We realize there may be times when we do not meet your expectations. If that happens, we encourage you to voice your concerns immediately.
A concern or complaint will never jeopardize your treatment or future access to care. You may:
Ask any team member to contact the Department Manager, Supervisor, or Director.
Ask any team member to contact the Administrator On Call or do so yourself by calling 740-922-2800.
____________________________________________________________________
You have the right to speak to a state authority or accrediting agency and may do so by contacting:
Ohio Department of Health
1-800-668-3534
www.odh.ohio.gov
State Medical Board of Ohio
1-800-589-7337
www.med.ohio.gov
Medicare Beneficiary Ohio KePro Inc.
The Joint Commission
1-800-994-6610
www.jointcommission.org
U.S. Department of Health and Human Services Office for Civil Rights Complaints
1-800-368-1019
(TDD) 1-800-537-7697
https://ocrportal.hhs.gov/ocr/smartscreen/main.jsf
Health Stream Research or Press Ganey may contact you to participate in a brief telephone survey about your hospital experience. We appreciate you taking a few minutes to answer these questions. Your feedback helps us meet your expectations and the expectations of our community.