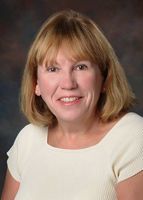 About Deborah Scott, CNP
Deborah Stewart Scott is a Certified Nurse Practitioner with more than three decades of nursing experience. She began her career as a registered nurse before going on to become a Family Nurse Practitioner. She is known for providing family medical care with a smile and for taking time to really listen to her patients and meet their needs.
Deborah earned her nursing diploma from the Aultman Hospital School of Nursing, her Bachelor of Science in Nursing from Ohio University, and her Master of Science in Nursing from Case Western Reserve University. She has also received training in wound care, making her a Certified Wound Care Specialist.
Deborah is proud to have been born and raised in this area of Ohio, and she and her husband currently reside in Harrison County. Together, they have four children and four grandchildren.
Areas of Treatment
At her Gnadenhutten office, Deborah enjoys taking care of families including family members of all ages from children to older adults. She also provides care to those who need wound care through the hospital's Center for Wound Management.
Awards & Honors
Deborah was chosen to be included in the Sigma Theta Tau Nursing Honorary Society, and she is also a member of the Ohio Association of Advanced Practice Nurses (OAAPN).
Interests & Hobbies
Deborah likes to spend her free time enjoying visits with family, gardening, checking out yard sales and antiques, and traveling.
Most Rewarding Aspect of Being a Physician
"...knowing that I have helped someone."
What I Like About Trinity Hospital Twin City
"Six months after graduating from RN school, I came to work at Twin City. I started my career here, and it seems fitting to end it here."
When asked what she likes most about the Twin City area community, Deborah explained: "This is the area I was born and raised in. Overall, the people here are very kind and giving and have supported me in times of need. I am glad to give back."
People Would Be Surprised to Know...
"My husband, Tim, and I love to zipline, and we have ziplined in several states and in Costa Rica."
Favorite Quotation/Bible Verse
"Right is right, even if everyone is against it, and wrong is wrong, even if everyone is for it." -William Penn
« Back to Doctors