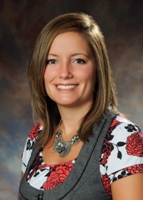 About Katelyn Obermiller, APRN-CNP
Katelyn Obermiller is a true country girl who loves living and working in the rural community where she grew up. Katelyn is known for her outgoing, friendly demeanor with her patients. She cares deeply for her patients and it shows through her dedication to their well-being.
Katelyn has more than five years experience in nursing care. She earned her Bachelor of Science Degree in Nursing at Ohio University and her Master of Science Degree in Family Practice Nursing at Wheeling Jesuit University. As a certified nurse practitioner, she works in partnership with Dr. Timothy McKnight of Trinity Medical Group, and Katelyn cares for patients of all ages.
Katelyn is a lifelong resident of the Twin City area who graduated from Claymont High School and currently resides at Freeport with her husband, 2 children, 1 dog and 3 cats.
Areas of Treatment
As a certified nurse practitioner in family medicine, Katelyn welcomes new patients of all ages.
Awards & Honors
In October of 2018, Katelyn received the 2018 Preceptor of the Year Award from the Ohio Association of Advanced Practice Nurses.
Interests & Hobbies
Katelyn enjoys jogging, spending time with her family, fishing with her husband, riding horses and four-wheelers, shopping and going on vacation with her family.
Most Rewarding Aspect of Being a Physician
"I am so excited to be practicing as a certified nurse practitioner, knowing I am an integral part of improving the wellness of the community."
When asked what led her to become a nurse practitioner, Katelyn shared, "My high school anatomy teacher opened my eyes to the many possibilities nursing had to offer. Prayer guided me to my final decision to become a family nurse practitioner. I wanted to be in a position to positively affect the lives of the people I care for."
What I Like About Trinity Hospital Twin City
"When I did my precepting rotation (part of her training) here last fall, I knew this is where I wanted to be. The people at THTC are wonderful! Everyone made me feel welcome, and I couldn't think of a better place to start practicing as an NP. THTC is more like a family that I am happy to be part of."
"As a graduate of Claymont High School, the Twin Cities are just as dear to me as Freeport. I am happy to be able to serve the community that has given me so much and helped shape me to be the person I am today."
People Would Be Surprised to Know...
"I live on a family farm with Boer goats, and Black Angus and Hereford cattle (beef cattle). I love living in the country!"
« Back to Doctors