Fit for Life

The goal of the Trinity Health System Twin City Medical Center Fit For Life Program is to provide an innovative multi-agency means to reduce the number of overweight and obese men, and women of all ages in Tuscarawas County and the surrounding counties of Carroll, Guernsey and Harrison.
The Fit For Life Program has the following components: Fit for Life classes for the community and workplace, health risk assessments and more.
Nationally Recognized for Changing Lives
The Fit For Life program has recently been featured by the Rural Health Information Hub because of the many lives we have seen transformed each session. Check out the video below, and be sure to click here to see the entire RHIH article!
Fit for Life Classes
Fit for Life is a 12 week, individualized program which emphasizes realistic lifestyle changes resulting in enhanced levels of health and fitness. Participants will meet once weekly for about 90 minutes and will use customized fitness and diet plans developed by our team.
The program's key fitness components are cardiovascular fitness, strength conditioning and flexibility. The program's key nutrition components include nutritionally balanced, everyday foods with emphasis on moderation and variety and avoidance of high calorie, high-fat foods.
Who We Are
Trinity Health System's Fit for Life program is an innovative wellness program that helps people make the lifestyle changes necessary to achieve overall wellness and lead happier, more productive lives. Thanks to a grant from the Health Resources and Service Administration Office of Rural Health Policy, Fit for Life began in May 2006 under the direction of Dr. Tim McKnight, a Board Certified Family Practitioner.
What We Offer
Our Fit for Life program can be designed to meet the needs of your company/organization's employees. We can conveniently offer our services at your place of business and/or at Trinity Health System Twin City Medical Center, 819 N. First Street, Dennison. Our services include Fit for Life classes, health risk assessments, and other special wellness presentations that are budget-friendly and can accommodate most schedules.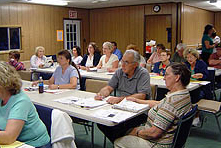 Fit for Life classes take place once weekly for 12 weeks. The classes include a curriculum that emphasizes realistic lifestyle changes, resulting in enhanced levels of health and fitness. Class participants meet for about 90 minutes weekly and use customized nutrition and fitness plans. Some of the class topics include stress management, the wellness choice, nutrition for life, eat to live, food labels, cardiovascular fitness, flexibility fitness, strength fitness, disease prevention, healthy aging and more.

Why Fit for Life Works
Fit for Life participants experience success where they may not have experienced success with other programs because Fit for Life provides a more holistic approach to achieving wellness. Participants are encouraged to make gradual changes to their lifestyles, changes that are much easier to sustain over time.
Traditional wellness programs focus on how much a person eats or exercises. Instead, Dr. McKnight emphasizes how to maintain balance between might, mind, heart and spirit to achieve overall wellness. Fit for Life provides the education, motivation and inspiration needed for positive change.
What to Expect from Fit for Life
After taking the 12 week Fit for Life class, you can expect the average participant to achieve the following:
Lose at least 7 pounds from starting weight
Lower systolic blood pressure by about 7 points
Lower diastolic blood pressure by about 2.5 points
Lower total cholesterol by over 13 points
Lower triglyceride level by over 20 points
Fit for Life is Transforming Lives!
"The Fit for Life program offers people the opportunity to make positive, lasting changes in their lives. It does so at an appropriate pace using tried and true practices anyone can follow. If you are serious about making a healthier choice in life, this program can help you do it." David Wheeler
"...Dr. Tim McKnight was so knowledgeable and focused on telling us just the right things and gave us hope and enthusiasm to continue. I wish this could be a mandatory class that everyone would have to take." Patti Strickling
"I am proud to say that I have lost an additional 18 pounds since the class (ended) bringing my total weight loss to almost 40 pounds. I am back to the weight I was in high school!...the Fit for Life class has changed my life." Shannon Boone