Coumadin Clinic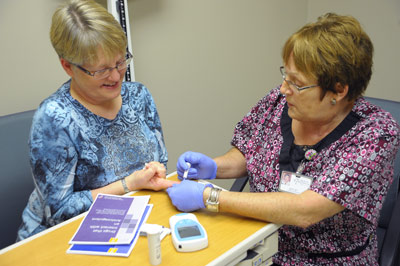 Make sure your Coumadin dosage and usage pattern is safe with regular visits to the Coumadin Clinic at Trinity Health System Twin City Medical Center. Our clinic makes it easy for you to get your international normalized ratio (INR) blood test results, with very little wait, and check your Coumadin dosage in a nearly pain-free way.
Coumadin is a life-saving drug that thins the blood for people that suffer from conditions like congestive heart failure, irregular heartbeat, and stroke, or for those that are at risk for blood clots.. However, Coumadin has been labeled as highly dangerous if people don't take the correct dosage. Regular testing with real-time results allows medical professionals to adjust dosages
and minimize risk for patients.
This is the process you'll follow when you arrive at your appointment at the Trinity Health System Twin City Medical Center Coumadin Clinic:
Quick Testing to Check Coumadin
Our clinic staff will use the fingerstick pinprick method, drawing one droplet of blood for the test.
Within a few minutes, we'll have the results of your INR test.
The entire process, from start to finish, will last less than 30 minutes..
Low-Pain Testing Methodology
Instead of mining veins for a blood draw, which can often inflict a good deal of pain on the patient, the testing procedure inflicts minimal pain, and patients quickly become comfortable with the single finger prick used to get the droplet of blood.
Get Easy-to-Follow, Individualized Directions from Clinic Staff
After reading your test results, our highly trained staff will make on-the-go adjustments to your dosage so that you're always on the right track.
If any prescription dosage adjustments are needed, they will be sent to your pharmacy of choice right away, and you can easily pick up your new prescription on your way home from the hospital.
Our friendly staff will offer helpful information to ensure optimal safety while using Coumadin. We'll provide you with tips like what foods to avoid while using Coumadin, and what medications might interfere with the medication.
Our staff will communicate with your physician on the same day of your clinic visit to keep him or her up to date regarding your condition.

The Trinity Health System Twin City Medical Center Coumadin Clinic is open Mondays, Wednesdays, and Fridays. For more information or to schedule an appointment, call the clinic at (740) 922-7450, ext. 2252. Clinic services are covered by most insurances.