Injection & Infusion Center
Offering specialized and innovative treatment for a variety of medical conditions like multiple sclerosis, kidney disease, and Crohn's disease without hospital admission, the Trinity Health System Twin City Medical Center Injection & Infusion Center provides patients with a quicker admissions process while undergoing outpatient procedures in a warm, comfortable setting.
Our team of skilled and compassionate nurses and pharmacists works with your medical provider to treat your medical conditions and deliver exceptional care close to home. We also work with you insurance carrier to ensure that your treatments will be covered.

Infusion Therapy 101

When oral medications fail, or they're not powerful enough, your physician may recommend infusion therapy. In many cases, medications are administered via intravenous methods; however, it's also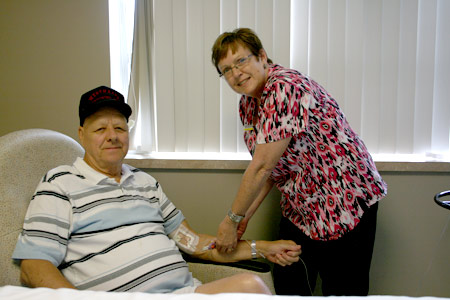 possible to receive medication via an epidural or intramuscular injections.
Patients can receive these types of treatments from our Injection & Infusion Center:
Pain management
Hydration
IV Antibiotic
Nutritional
Antiviral
Antifungal
Biologic immune modulators
Hematologic growth factors
IV steroids
Central line catheter care
Who needs infusion therapy?
A number of conditions can benefit from, and indeed improve, with infusion therapy, allowing patients to thrive. Your doctor may prescribe infusion treatment if you have:
A condition that's unresponsive to antibiotics taken orally.
Cancer.
Gastrointestinal disease such as Crohn's Disease or Ulcerative Colitis
Hemophilia.
Rheumatoid or Psoriatic arthritis.
Multiple sclerosis.
Kidney disease.
Psoriasis.
Ankylosing spondylitis.
Alpha-1 antitrypsin deficiency.
Asthma.
Chronic Idiopathic Urticaria.
Examples of medications administered by our center include, but are not limited to, the following: Entyvio, Stelara, Remicade, Inflectra, Renflexis, Rituxan, Orencia, Actemra, Ocrevus, Tysabri, Xolair, Prolastin-C, Procrit, Aranesp, Venofer, Feraheme, Panhematin, Cyanocobalamin (B-12), Neulasta, Reclast, Zometa, Xgeva, Prolia, and Boniva.

Benefits
Our experienced Injection & Infusion Center staff follows exact guidelines for ensuring that the medications administered are always kept in a sterile environment. The surrounding environment, like the positioning of comfortable chairs, is designed with patients in mind, ensuring stability and sterility at all times. Medical professionals keep accurate charts on dosages and schedules to promote optimal infusion of medications, and prevent adverse reactions and interactions with other medications. When vascular access devices like ports are used, our staff ensures they are properly and routinely flushed to ensure optimal delivery. Our staff will also monitor the delivery of medication closely, to ensure the process is safe, from start to finish.

Here's How to Get Started
Long-term infusion therapies are costly, especially if administered as a hospital inpatient. Outpatient centers like ours provide top-notch care under the supervision of highly trained medical professionals, all at a lower cost. The service is normally covered by insurance companies, but patients will require a doctor's order. However, your doctor does not need to be affiliated with Trinity Health System in order for you to receive care at our Center.

Have a referral for our clinic....
Below you will find the information needed to set-up and begin treatment for your patient. Please click link below for our referral packet.
Injection and Infusion Center Referral Packet
Please fax packet to (740) 922-1834

The Trinity Health System Twin City Medical Center Injection & Infusion Center is open 7 days a week. For more information or to schedule an appointment, call the center at (740) 922-7450, ext. 2252 between 8 am and 3 pm, Tuesday-Friday. If you need assistance outside of those hours, please call (330) 401-9185 to speak to our patient care house supervisor.