Surgery
Trinity Health System Twin City Medical Center's Surgery Department includes the most experienced group of surgical professionals in the region who use the latest in surgical technology. Housed in the hospital's new state-of-the-art Medical Center, the surgery department offers convenient same-day surgeries and traditional surgeries in an environment that offers the optimum amount of privacy and comfort for patients.
Surgeries offered include general surgeries including Colonoscopy screening tests, Gall Bladder removal, Appendectomies, Bowel surgeries, Foot and Ankle surgeries; gynecological procedures; non-invasive cardiology procedures and others.
Our low nurse to patient ratio assures that each patient gets the individual attention he/she deserves throughout the entire surgical process. Choose Trinity Health System for all your surgical needs.
Patient Testimonial:
"Surgical Team Revue Earns Glowing Review"
Performing surgery is a serious business requiring the utmost in caring and surgical skills. Still, the experienced surgical team at Trinity Hospital Twin City knows it takes more than medical skills to provide high quality care for patients. It takes a willingness to care for the whole patient to make him or her feel at ease from the moment surgical preparations begin until the patient leaves the recovery room, ready to begin the journey to full health.
That special kind of caring meant the world to Cherie, 45, of Dover, Ohio. The busy mother of three and grandmother of one and Office Manager of Swiss Village Insurance recently underwent a second mastectomy as a preventative measure to keep her metastatic adeno carcinoma (liver, lung and bone cancer) from coming back. She was understandably nervous when she arrived for surgery. "I was so scared," she shared. "The surgical nurses sang to me before the surgery. It was awesome. They just gave me peace and were so comforting. In recovery, they sang to me again, and they all hugged me."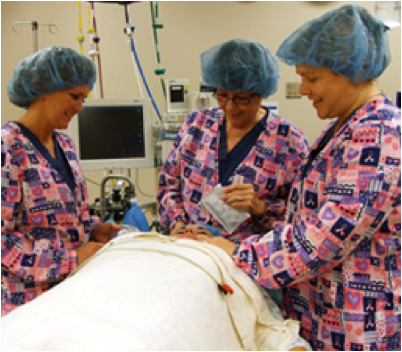 Cherie also praised her surgeon, Dr. Matthew W. Phillips. She appreciated the care and concern he had for her. "He's more than awesome," she noted. "I tell everybody he's an angel."
Cherie was pleased with her entire surgical experience at Trinity Health System Twin City Medical Center. She's used other hospitals in the region, but felt they didn't give her the level of care she received at Trinity Hospital Twin City. "It was better than good care," the five year cancer survivor said. "It was the best experience for what I had done. Now, I will go nowhere but Trinity Hospital Twin City."