Swing Bed Program
Swing Into Independent Living at the Trinity Health System Twin City Medical Center Swing Bed Program!
If you or someone you love needs skilled rehabilitation services after an illness, injury or joint replacement surgery, talk to your doctor about Trinity Hospital Twin City's Swing Bed Program. Our Skilled Rehabilitation/Swing Bed Program is designed to facilitate skilled rehabilitative care which sometimes becomes necessary following an illness or injury in those cases when a patient is well enough to leave the acute care level of the hospital but not well enough to return to the home. The Program's purpose is to assist patients in improving their physical, emotional, and social functioning through rehabilitative therapies.
For more information about our Swing Bed Program or Social Services, please call our case management department at (740) 922-7450, ext. 2110.
Who Needs Swing Bed Services?
Patients needing rehabilitative physical therapy services following an orthopedic surgery
Patients needing IV therapy
Patients needing care of wounds which require daily evaluation and treatment by skilled personnel
Patients needing restorative nursing procedures such as the following: ostomy training, diabetic teaching, and etc.
Patients with stroke (CVA) requiring rehabilitative therapy
Patients needing therapy for debilitation/weakness
Patients with minor traumatic brain injuring requiring rehabilitation/therapy
Program Eligibility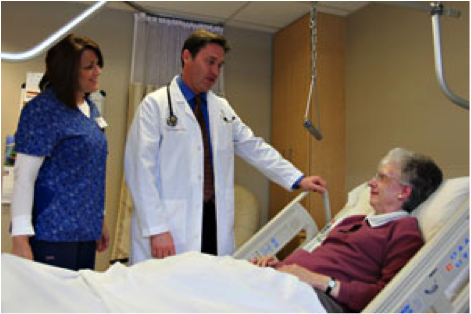 Swing Bed Program services are covered by Medicare and many commercial insurances for qualified patients. Medicare, Federal, and State regulations limit the eligibility for admission and continued participation in this program. According to Medicare standards, a three day acute level of care stay at Trinity Health System Twin City Medical Center or another health care facility prior to Swing Bed Care is required in order for Medicare recipients to be eligible for this program. Talk to your doctor and/or call our case management department at (740) 922-7450, ext. 2110 to see if you might be eligible.
Rehabilitative Services
Under the direction and supervision of the patient's personal physician, Trinity Health System will make every effort to assist the patient in achieving an optimum level of function and self care through specialized therapies, education, and retention of daily living activities. Patients shall be helped to return to their homes or other residential living arrangements. A written plan of care is utilized and regularly reviewed and reevaluated. The patient is not required to perform services that are not included for therapeutic purposes in the plan of care. Daily activities are coordinated by our caring activity director who assures that patients enjoy their stay while receiving rehabilitative care.
Therapy Services
When referred by a physician, patients receive evaluations and rehabilitation treatments by Licensed Therapists. Current therapies available are physical, occupational, and respiratory rehabilitation.
Smooth Transition to Independent Living
Trinity Health System Twin City Medical Center's caring and experienced team of healthcare professionals help smooth and expedite the transition from Swing Bed to the home or other residential living arrangements. Our Social Services Department assists patients and their families with arrangements for continuing health care needs following hospital care. Assistance can also be rendered to meet the patient's medically-related emotional and social needs.
What Past Swing Bed Program Participants Are Saying
"It's one of the greatest, if not the greatest, programs of this type in the county. We feel that we got the very best in nursing care. Everyone from the aides to the housekeeping staff was extremely helpful and friendly."
-Terry & Virginia of the Newcomerstown area
"It's just a wonderful program for people who've had surgery. I can't say anything negative because my experiences were all super. The care was first class, and I could never express how good it was. I recommend it to everyone." -Evelyn of Uhrichsville
"Everyone was so friendly and helpful, and the therapists were really knowledgeable and encouraging. It was wonderful to get such excellent care close to home without having to go to a nursing home for rehabilitation after my double knee replacement surgery."
-Jane of Gnadenhutten
"School Custodian Credits Trinity Hospital Twin City for Quick Recovery"
Working as a custodian in the Claymont School System where Trinity Hospital Twin City is located is no easy task. There's heavy lifting and a lot of bending and twisting to keep the schools sparkling clean and provide a safe and sanitary learning environment. Eddy, 59, of Dennison, Ohio was up to the task, but in the fall of 2011, he needed a knee replacement.
After his surgery, he chose the Trinity Hospital Twin City Swing Bed Program for his skilled rehabilitation. It was a good decision, and Eddy credits the care and therapy he received for helping him get back to his regular daily activities quickly. "It was the best care I ever had in my life," he exclaimed. "It's an excellent hospital."
After leaving the Swingbed Program, Eddy continued his recovery with the hospital's outpatient physical therapy department. "I'm in excellent shape now," Eddy noted. "All the staff was excellent. I'm back to work, and I'm 100 percent."
Eddy felt so positively about his Trinity Hospital Twin City experience that he called the area daily newspaper to share his experience. "I'd recommend Trinity Hospital Twin City 100 percent of the time. I've been to other hospitals, but I didn't get the care (at other hospitals) that I got at Trinity Hospital Twin City."
Learn More About Our Swing Bed Program

For more information about the Trinity Health System Twin City Medical Center Swing Bed Program, please call us at (740) 922-7450, ext. 2110.