Our History
In August of 2017, Trinity Hospital Twin City (founded as Twin City Hospital in 1912) of Dennison celebrated its 105th year of providing healthcare for the community as THTC...The Hospital That Cares. Our hospital's story began when a group of volunteer women began raising money to build a hospital, and Reverend Moody "sold" the committee the land for just one dollar. In May 2011, thanks to the sponsorship of the Sisters of St. Francis of Sylvania, Ohio, we became Trinity Hospital Twin City. Then, effective November 1, 2014, the hospital's sponsorship was transferred from the Sisters of St. Francis of Sylvania, Ohio, to Catholic Health Initiatives (CHI). We are also fortunate to be part of Trinity Health System of Steubenville, a system that has received a coveted four star rating from the U.S. Center for Medicare and Medicaid Services. And now, more than one hundred years later, it's amazing to reflect on the difference those volunteers and their initial one dollar investment has made. Literally thousands of our ancestors, neighbors and friends have benefited from the compassionate care provided by our physicians, staff and volunteers.
Trinity Hospital Twin City was built by the community for the benefit of the community. As we begin our next century of caring, we will continue our community focus through the provision of state-of-the-art services to more local residents to meet their growing health and wellness needs. The emotional, spiritual and physical needs of our patients are not much different now than they were a hundred years ago, and, as a Catholic hospital sponsored by Catholic Health Initiatives (CHI), our mission to heal the whole person remains unchanged.
Building upon our 105 year foundation, we also have an exciting and promising future. We look forward to serving more area women with the recent additions of a new digital mammography machine, bone density unit and complete endoscopy unit. We also plan to make our Trinity Medical Group (hospital-owned group physician practice) even stronger by recruiting additional physicians. We will continue to develop our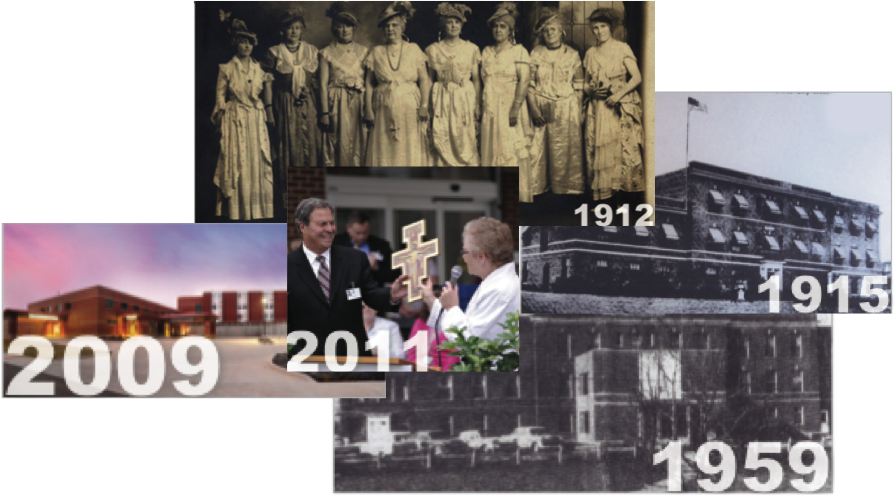 many existing services to best meet your health needs, and our community outreach department will offer more educational programs and health screens in the region.
Over the years, many hospital employees and volunteers have echoed the sentiment that God has always watched over this hospital. Given the challenges the hospital has overcome over the past 105 years, the scripture from Jeremiah 29:11 ("For I know the plans I have for you, declares the Lord, plans to prosper you and not to harm you, plans to give you hope and a future."), which was the theme of our big 100th anniversary, certainly rings true.
Thank you to the community members for your ongoing support and prayers for our hospital on the hill. Thanks also to the hundreds of dedicated physicians, employees and volunteers who have served here. With God's help and your continued support, we will continue our healing mission well into the next century.
Please click here for a link to our 100th Anniversary booklet, which includes even more information about our rich history.