Imaging Services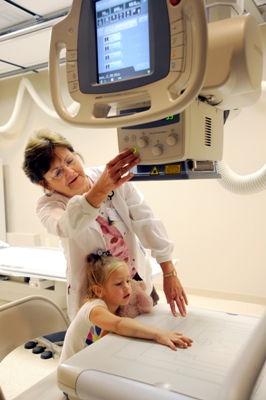 Choose Trinity Health System Twin City Medical Center for all your imaging/radiology needs. No matter where your physician's office is located, you can choose to have your tests done at our hospital's Imaging Services Department. We will use our digital technology to send your test results back to your physician quickly. Our friendly and experienced technologists are certified and licensed by the State of Ohio to provide only the best in care to our patients. We offer services using state-of-the-art digital equipment.
Our Imaging Services Department partners with expert radiologists from Steuben Radiology Associates to read and interpret images. Every Steuben radiologist is board certified and experienced in multiple forms of imaging modalities. The group provides coverage of the hospital's imaging department 24 hours a day, 365 days a year, and the hospital is able to work with radiologists with different specialties in order to ensure the timely, accurate interpretations necessary to deliver high quality patient care.
All imaging services require a physician's order and can be scheduled by calling Central Scheduling at 740-922-7405, Monday through Friday, from 8:00am to 4:30pm. For patient convenience, imaging appointments are also available on Saturdays.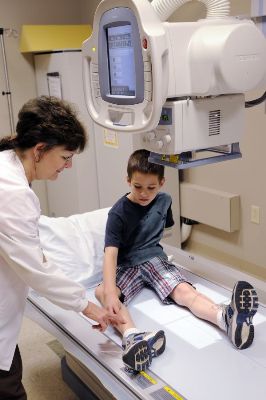 General Diagnostic Radiology
Services include:
General X-rays
Fluoroscopic procedures
Out Patient Invasive Procedures
Ultrasound
Ultrasound uses sound waves to produce images without radiation. Our ultrasound department does testing in the pelvis, soft tissue organs, breast and thyroid. Ultrasound guided breast biopsies and needle localizations are also done. Vascular studies of the carotids and extremities are offered here also.
Services include:
Abdominal scans
Small parts
Vascular Scanning-Venous and Carotids
GYN/Early OB
Ultrasound Guided Invasive Procedures
Nuclear Medicine
We offer a wide variety of testing using radioactive doses that are absorbed into the body and then the patient is scanned. We offer bone imaging, thyroid, hida scans for gallbladders, and etc. We also provide stress tests utilizing nuclear medicine technology.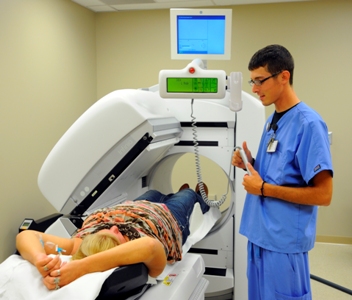 Services include:
Bone Scans
Hepatobiliary Scans
Lung Scans
Liver and Spleen Scans
Gastric Emptying Scans
Thyroid Scans
Cardiac Nuclear Medicine
Service includes:
Thallium Stress Test
Cardiolite Stress Test
Dual Isotope Stress Test
Muga Scans
CT Scans
We have a 16-slice computerized tomography (CT) scanner in our department. It can do an average scan in just 15 minutes. The CT scanner creates images in millimeter slices throughout the body part of the body that your physician wants to scan. The scanner can scan any part of the body from head to toe. We also offer venous as well as angio studies in CT.
Services include:
CT Diagnostic Scans
CT Angiography Scans
3D Reformats
CT Guided Invasive Procedures
CT CONT
Mammography
We have a brand new Digital GE Mammography Unit. We offer mammography screenings Monday through Friday, 8:00am to 3:30pm by appointment.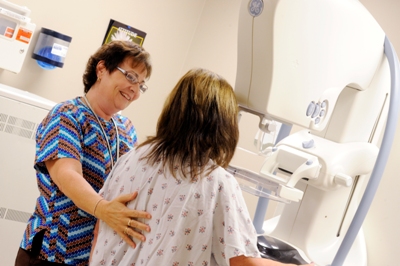 Services Include:
Screening Mammograms
Diagnostic Mammograms
Ultrasound Guided Core Biopsies
Needle Localizations
Click here to learn why mammograms are recommended for early detection of breast cancer. Mammography is still considered one of the best forms of protection against breast cancer because the machine can often detect breast cancer in the early stages when it is most likely to be treatable. The American Cancer Society recommends that women age 40 and older have a yearly mammogram.
Bone Density
We have a brand new GE Bone Density Unit, and we offer bone density testing Monday-Friday, 8 am to 3:30 pm by appointment.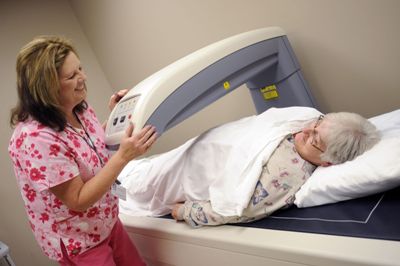 Bone density tests screen for osteoporosis, a disease of the bones that weakens the bone structure and makes them more prone to breaking. It is recommended that people 65 and older have a bone density test, and all post-menopausal women below age 65 who have risk factors for osteoporosis.
Bone Density Studies utilize a dexa scanner to measure bone mass and provide doctors with information to treat osteoporosis adequately. If you use steroids, alcohol, have a family history of osteoporosis, early menopause, or are a smoker, you may be at risk for osteoporosis. Diagnosing these diseases helps doctors treat you with medication and sometimes recommend lifestyle changes.
To determine your risk for osteoporosis, click here to take our interactive osteoporosis risk test.
MRI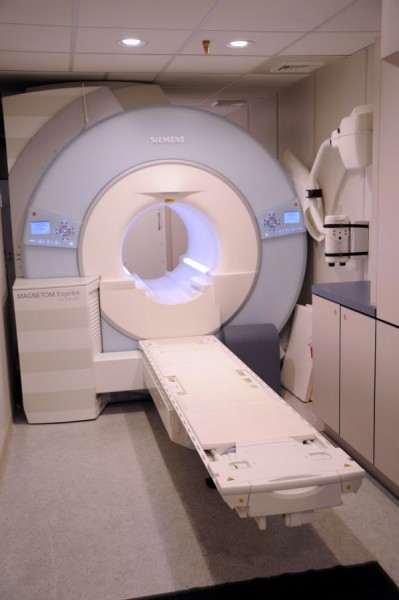 Alliance Imaging provides a mobile MRI (magnetic resonance imaging) service to us with a state-of-the-art Espree machine. The MRI machine features a large open bore for enhanced patient comfort. We can accommodate patients up to 520 pounds and scan times are 20 minutes and up. The mobile service is available at our hospital every Saturday with appointments starting as early as 7 am.