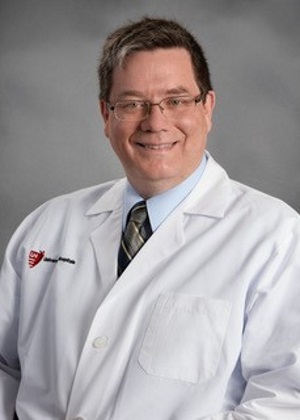 About Robin D. Kollman, MD
For Dr. Robin D. Kollman, providing medical care centered around your family's unique situation and needs is a top priority. As a family physician with more than 33 years of experience, Dr. Kollman was one of the first physicians in Tuscarawas County to work toward developing a patient-centered medical home (PCMH), which is a type of medical practice that ensures each patient receives the best experience and outcomes possible. Raised in Tuscarawas County, Dr. Kollman is a hometown physician whom you can trust with your family's care.
After graduating as Valedictorian of Indian Valley North High School, Dr. Kollman earned his Bachelor of Science Degrees in Biology and Chemistry from Muskingum College, and earned his Medical Degree at the Ohio State University Medical School. He completed his residency training at Aultman Hospital. Dr. Kollman is a board certified family practitioner and a Fellow in the American Academy of Family Practice (FAAFP).
Dr. Kollman currently resides at Macedonia, Ohio, with his wife, Kathy. They have been married for over 36 years and have four children and one grandchild.
Areas of Treatment
Dr. Kollman welcomes new patients of all ages from infants to older adults and every age group in between. Dr. Kollman was inspired to become a physician thanks to the influence of his father, who was one of the early physician leaders at Twin City Hospital (now Trinity Hospital Twin City).
Awards & Honors
Dr. Kollman is a Fellow in the American Academy of Family Practitioners and he has had several of his medical research projects chosen for publication in medical journals. He earned the "America's Top Family Doctor" award from the Consumer's Research Council of America for 2002-2003, and he received Physician's Recognition Awards from the American Medical Association from 2003-2006.
Interests & Hobbies
Dr. Kollman enjoys several interesting hobbies and activities. He is a tropical fish hobbyist and a former amateur radio (ham radio operator) technician. He also enjoys biking, traveling, and reading science fiction books. He especially enjoys spending time with family and friends.
Most Rewarding Aspect of Being a Physician
He enjoys working in the medical field because of the trusting relationships he can build with his patients.
What I Like About Trinity Hospital Twin City
"I have a chance to work in a very innovative family medicine office with a friend (Dr. Maurice Stutzman) from medical school and residency, and I am part of a healthcare system I am familiar with here," explained Dr. Kollman. "I am glad to be returning to Tuscarawas County, which I thoroughly enjoy."
People Would Be Surprised to Know...
"I have been blessed by the Pope."
Favorite Quotation/Bible Verse
A Bible Verse about showing mercy and not judging others: "So when they continued asking him, he lifted up himself, and said unto them, He that is without sin among you, let him first cast a stone at her." -John 8:7
« Back to Doctors