Heart Health Services
At Trinity Health System Twin City Medical Center, we have cardiologists and experienced cardiopulmonary technologists who can help you obtain your diagnostic tests and results quickly. We also have many heart care services to help you achieve optimum heart health. Let your primary care provider know you'd like to choose Trinity Health System Twin City Medical Center for your heart care.
Pacemaker insertion and monitoring
EKG
Stress test (with and without use of treadmill)
24 hour blood pressure monitoring
Holter/Heart monitoring (24/48 hours or across 30 days)
ABI
PVR
Vascular Testing
Echocardiogram
Cardioversion
And more!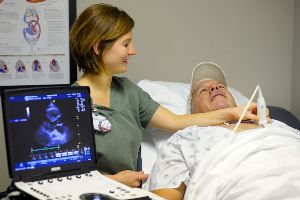 Schedule An Appointment
If your doctor has ordered a test for your heart, our staff is ready to assist you with the best care available. Call us at 740-922-7480 to schedule an appointment with our cardiologist. For more information about our testing services, call us at 740-922-2800 x2270.